Old Fort Point - Jasper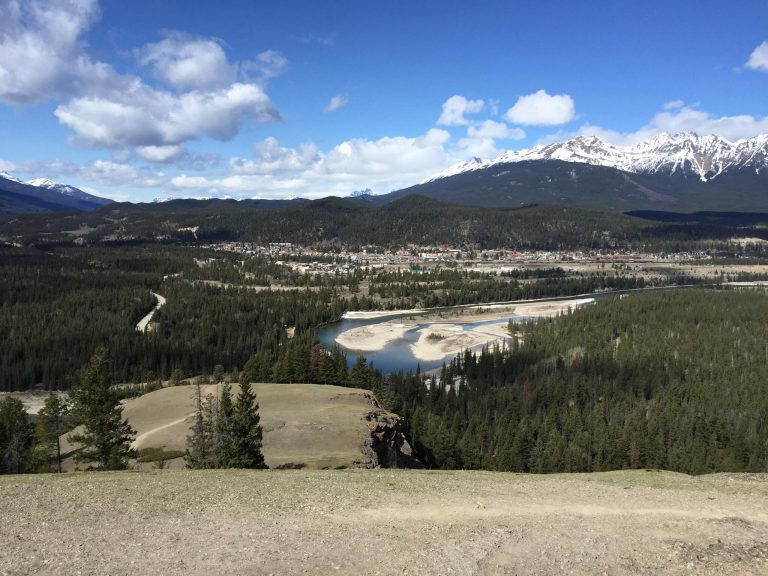 From the Jasper townsite, take Highway 93A south and just after the junction with Highway 16, turn left onto Old Fort Point Road. The trailhead is right on the opposite side of the Athabasca River.
NTS Map: 83D16 Elevation Gain: 130 m (427 ft).The trail up Old Fort Point near the town of Jasper in Jasper National Parkis a must do for all visitors and you don't have to make it all the way up for great views. But the 360 degree view from the top takes in peaks up and down the Athabasca Valley, half way up the Miette and over the Continental Divide into British Columbia, a grand panorama. And more often than not, you'll be in the company of Rocky Mountain Bighorn Sheep.In the corner of the parking lot is a large wooden staircase hidden behind some trees, locate them and head up, this is Trail#1 . At the top of the stairs is a monument to the Athabasca River, which was designated a Canadian Heritage River in 1989. (http://www.chrs.ca/Rivers/Athabasca/Athabasca_e.htm). Keep left on Trail#1 at the junction with Trail#9c and go up, up, up… it's only 130m of elevation but it'll feel like more.The trail wraps around the summit before the final ascent through a gap in the rock from behind. Be careful with children as you pass through the gap, a few steps to the right is a big cliff. The rock on the summit is far from smooth but there are a few comfy spots to sit and take in the view. The rock itself is some of the oldest in the Rockies about 800 million years old. Once you've had your fill of the panorama, return the way you came.Jasper National Park produces a free day hiking guide called 'Summer Trails' of this and many other trails in the park, it is available at the Jasper Information Centre. Gemtrek produces two maps of the area 'Jasper Up Close' at 1:35,000 and 'Jasper and Maligne Lake' at 1:100,000. The Government topo 83 D/16 Jasper at 1:50,000 shows the area as well but rare is the trail that is correctly plotted on this map.
Directions:
The parking lot is 2km from the town of Jasper. Exit the town on Hazel Street and cross the railroad tracks, it's the only level crossing of the tracks in town. Keep going and cross Hwy 16, then turn left on the Old Fort Point Road. The Old Fort Point Road crosses the river before entering the parking lot at Old Fort Point.
Jasper National Park Weather
8°
Cloudy
7:57 am7:25 pm MDT
Feels like: 7°C
Wind: 8km/h S
Humidity: 76%
Pressure: 1012.53mbar
UV index: 0
8°C
8°C
7°C
6°C
7°C

14/-2°C
13/-2°C
18/1°C
21/2°C
19/6°C